Naukšēni door in Valmiera "

Sajūtu

Park"

There is a very special place in Valmiera – the "Sajūtu Park", which was created by its director Iluta Urbanoviča. When the counties' borders changed recently, she urged each municipality to prepare doors that are relevant to their age, location, or message. The doors are now in "Sajūtu Park" and visitors can see them and maybe learn something new. I am honored that the city of Naukšēni invited me to participate in this project. The main entrance door of the administrative building of the Naukšēni municipality became the object, which was replaced by a new door in 2019. Diāna Glušonoka, Jānis Zuments, Indra Jirgena, Aiga Stiere and Agnese Valiniece took part in this project. The idea was that the door should not only be visually interesting, but also tell the story of a region in the middle of nature, in the center of which there is the Naukšēni manor, lively people and various, beautiful and very interesting places that are worth visiting . The photo gallery shows both the creation process and the result. Creative team – Council chairman Jānis Zuments, director of Naukšēni Human Museum Diāna Glušonoka, artist Agnese Valiniece and director of Naukšēni secondary school Aiga Stiere at the door of Naukšēni district In Valmiera in the "Sajūtu Park".



In cooperation with Rūjiena Folk School
Photo series
From my inspiration to the finished scarf
Photo session in early summer
Spring has also arrived in Latvia, the flowers are blooming on the meadows and my clothes are also "blooming"
Photos: Solvita Melne , Iveta Salmiņa un Agnese Vaļiniece – Model: Solvita Melne un Iveta Salmiņa – Designer dresses: Agnese Vaļiniece
Creative workshop in the community college in Rujiena
Exhibition in St. Peter church in Riga 2019
Midsummer night market in the old town of Riga – Agnese Valiniece together with the Latvian President and the First Lady.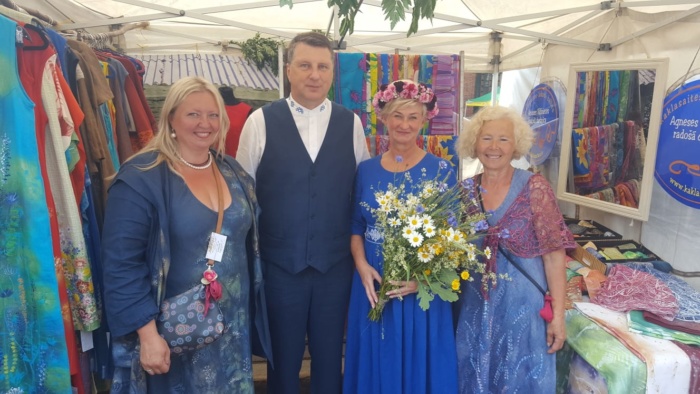 Market in the Open Air Museum Riga 2019
Customer day in "Ābelītēs"
Opening of my Privat Exhibition 2018
"Zīds – Ziema – Ziedi – Zelts" in KLASE – Riga
Fotoshooting in Abelites
Exhibition Klase 2018 – Riga
Opening of my Exhibition "Savienojot Nesavienojamo" in the Museum of Ethnology in Naukseni 2018
Naukšēni City festival 2017
Exhibition in the Boutique "Klase" in Riga 2017
Agnese Valiniece together with Sheila at the fashion week in Liepāja